Black Lives Matter: Bill Signing & Telephone Town Hall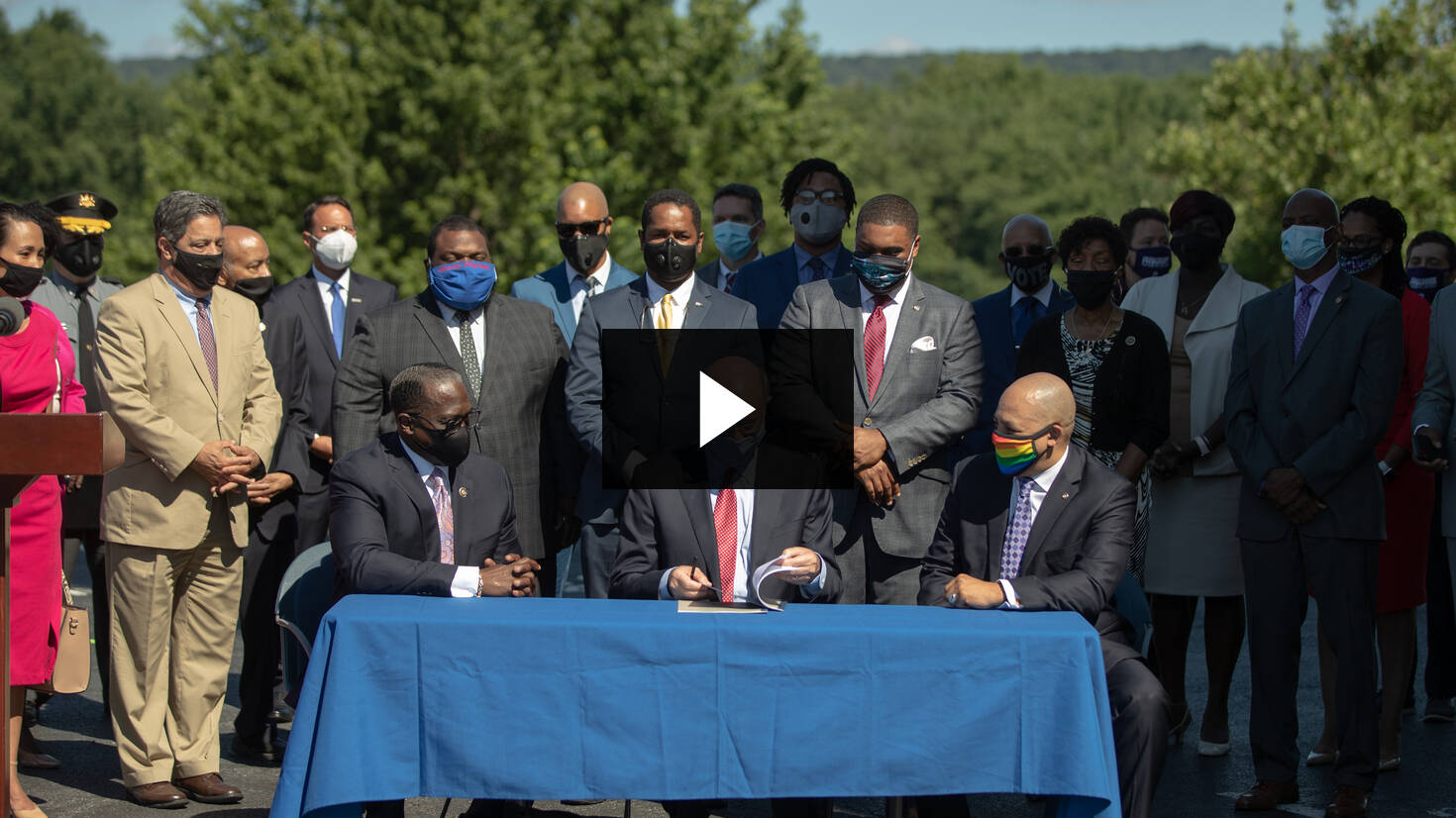 Today, I joined Governor Wolf's bill signing ceremony for historic police reforms. These changes were possible due to recent Black Lives Matter protests over the murder of George Floyd by Minneapolis police.
House Bill 1841 establishes a statewide database of police officer separation records.


House Bill 1910 requires PTSD evaluations for officers within 30 days of lethal force incidents and mandates racial, ethnic, and economic diversity training.
We have more work to do. This Wednesday, 15 July at 7:00 p.m., I will host a Telephone Town Hall on Police Reform and Black Lives Matter. My guests will be Elya Kaplan and Marcela Rolón Dow, Community Organizers for Mt. Airy Solidarity March and Frank Manzano of If Not Us Then Who. To join by phone or submit a question, use this form. Listen online at vekeo.com/senatorhaywood.
Philadelphia Office Open for Appointments
My Philadelphia district office is now open for appointments! My staff is assisting neighbors in our Germantown Avenue office Monday through Thursday, 9 a.m. to 5 p.m. We can provide in-person assistance on these issues:
NEW: Department of Human Services (SNAP, LIHEAP, Medicaid, and others)
Free Notary Services
PennDOT services
Property Tax & Rent Rebate
Unemployment Compensation issues
Utility issues
Call 215-242-8171 to schedule an appointment. We will return your call promptly. When you arrive for your appointment, please wear a mask and follow our social distancing policies. Come see us!  
Rental Assistance Update
Last week, Governor Wolf extended the statewide eviction moratorium to August 31, 2020. This is great news for renters and landlords struggling due to COVID-19.
Programs for rent and mortgage assistance are open until September 30, 2020. Renters must submit 3 items: a lessee household certification-renter application, a landlord application, and the landlord-property certification. Mail your completed applications and supporting documentation to the appropriate county agency:
Montgomery County residents mail applications to COVID-19 Rent Relief Program, Montgomery County Human Services Center, P.O. Box 311, Norristown, PA, 19404-0311, or via e-mail to RentRelief@montcopa.org.
Homeowners can apply online or send a paper application to the appropriate county agency, as listed above.
PHFA is available to help weekdays from 8 a.m. to 5 p.m. at 1-855-827-3466. I fought for this much-needed funding in recent budget negotiations. Please apply, if needed.
Small Business Relief Available
Tonight at 11:59 p.m. is the deadline for the first round of the $225 million COVID-19 Relief Statewide Small Business Assistance program. Businesses can apply at www.pabusinessgrants.com. Future rounds of grants will be offered if funds are still available.
Additional small business relief is available in our area.
The deadline to apply for Paycheck Protection Program (PPP) loans is August 8, 2020. To apply, you must submit applications through a local lender.
MontcoStrong small business grants reopen this week. Applications will be accepted online from 10 a.m. Thursday, July 16, 2020, to 12 p.m. on Friday, July 17, 2020. To prepare to apply, please review program guidelines and this FAQ. E-mail any questions about this grant to MontcoStrongSBGP@montcopa.org.
Philadelphia has lowered barriers for small businesses to work with the city. Businesses can now register as a Local Business Entity, and you can learn more about this program here. Philadelphia also launched a new Contracts Hub to help small businesses find opportunities in Philadelphia.
A comprehensive list of small business relief opportunities is available here.
Senior Farmers Market Nutrition Program Update
Due to COVID-19, Senior Farmers Market Program vouchers will be mailed to those eligible this year.  
Eligible residents who received vouchers in the past two years will be mailed an application for 2020 vouchers. You can also print an application here. Note: E-signatures in "script" font are permitted if sending in the application digitally. Send completed applications by mail or email to your county agency:
Philadelphia residents mail applications to the Philadelphia Corporation for Aging (PCA) at 642 N. Broad Street, Philadelphia, PA, 19130. You can also e-mail competed applications to sfmnp@pcacares.org.
Montgomery County residents mail applications to Share – Montco Hunger Solutions, 2901 West Hunting Park Ave., Philadelphia, PA, 19129, or via e-mail to infomhs@sharefoodprogram.org. For help, call 610-628-2400.  
Voucher amounts have increased to $24 total, or four $6 vouchers. For more information, please visit www.pcaCares.org/produce or www.montcopa.org.
Musical Mood Boost
Aretha Franklin, I Say a Little Prayer: https://www.youtube.com/watch?v=KtBbyglq37E
Be the Light,
Art Haywood
State Senator
4th District
Stay in Touch on Social Media
Please follow me on Facebook and Twitter to stay involved and receive live updates on issues and events. Be sure to check out my latest videos on YouTube, my latest photos on Instagram and subscribe to my Participation is Power Podcast!
Offices to Serve You